Association Management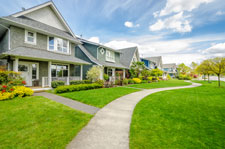 Grid 7 Properties provides association management services for homeowner's associations, condominium associations, community associations, and planned unit developments throughout the Suburban Chicago towns and cities. Grid 7 Properties provides leadership and support to Board of Directors members, homeowners, builders and developers in the management of existing associations and newly constructed associations.
Homeowner's Association Management Services include; policy development, general administrative services, dues collection, accounting, budget development, compliance enforcement, attending board of directors meetings, financial planning, supervision of maintenance, janitorial and grounds contractors; bid solicitation, negotiations with contractors, prepare resale certificates and other duties assigned by the Board of Directors.
At Grid 7 Properties we not only have the innovative Community Management Systems to effectively manage the day-to-day operations of your association, but we also have the experience, foresight, and commitment to assist your association with the long-term challenges that will have lasting impacts on your homeowners and your community.
Inquire About Our Services