With Grid 7 Properties, you get one company and Three Solutions. Whether you need leasing solutions, property management solutions, or handyman solutions –
Grid 7 Properties
is ready to make a difference.
As your full-service property management provider, we work with:
single family homes
townhomes
condominiums
multi-family properties.
Working with us means you have access to our experience, our motivation, and our communication tools. Here's what we mean:
The Grid 7 Properties Experience
The local rental market is specialized and ever-changing. You need a property manager that has done more than buy and sell real estate. Our team expertly leases over 200 properties per year in your neighborhoods. We approach the market with knowledge, skills, and enthusiasm. Our leasing agents are the best in the business, and they are always taking classes and attending seminars on updated fair housing laws, rental guidelines, and disclosure requirements. Grid 7 Properties understands your rental contracts thoroughly, and enforces them consistently.
The Grid 7 Properties Service Plan
Other companies might ask for a lot of money up front – before they even list your rental property. At Grid 7 Properties, we believe in earning your business and growing our partnership. There are no set-up fees. We immediately market and advertise your property, show it to prospective tenants, and oversee a rigorous screening process to ensure we place the most highly qualified tenants. You don't pay us until your new tenant is in place and you're collecting rent.
The Grid 7 Properties Communication
Our approach is one of collaboration and teamwork. You won't be assigned to a single property manager; instead, you'll have a team that's working hard to make your investment more successful. Our skilled and professional team members include front office staff, a leasing department, maintenance department, handyman services, and individuals who focus on business development and ownership. You'll have access to all our professional resources and the talents of this amazing group of people. Feel free to stop by at our office, or call us. You'll get a live person – not an answering service.
We aim to meet and exceed customer expectations.
We want to know where we're doing well and what we can do to improve. That's why online reviews are so important to us, our services consistently get 5-star reviews on Google, Facebook, and Reputation.com. Check us out, and you'll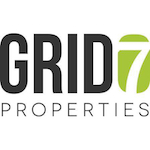 find we have an average of 4.6 stars out of 5 on Google with 21 5-star reviews. We're proud of this record, and we appreciate the relationships we've developed with owners, investors, and tenants.
Contact us
today at Grid 7 Properties to discuss how we can help you succeed with your investments.